Monthly Archives:
May 2014
Playtime!
Or, get em while they're distracted!
Cats looooooove to play with things. A ball of yarn…….mine loves plastic grocery bags (under supervision)…..the little plastic rings that peel off when you open a gallon of juice or milk….a rattly ball…..balled up piece of paper…you name it! This is a great time to get a good picture of your cat doing something besides sleeping. Initiate playtime and grab the camera!
One trick to make snapping pictures easier is to tie a piece of yarn/ribbon on the end of a stick and dangle that over kitty. You can use one hand to aim the camera and the other to tease the kitty! (hint from deemac1)
You can either leave the toy in the shot, or zoom in close to get the wild eyed look (kittens are great at this one). One tip for getting kitties attention is hold aside a toy (squeaky crinkly kinds work well), aim the camera, get ready……make noise with the toy and snap the picture as soon as kitty turns towards you! This will work for a few times, but after a while the kitty will start ignoring you-take em while you can!
Use of yarn on a stick trick:


play by deemac1
Feathers are fun! Just make sure they aren't attached to a live bird (gulp….)!
Wild eyes in the middle of playtime!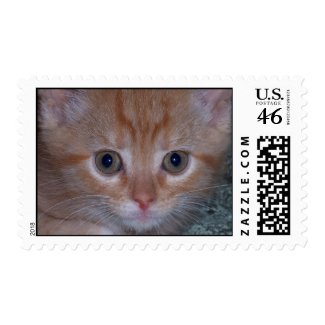 Kitten Postage by willowdewisp

Kitten Cards by krystishollyhocks
Cat with computer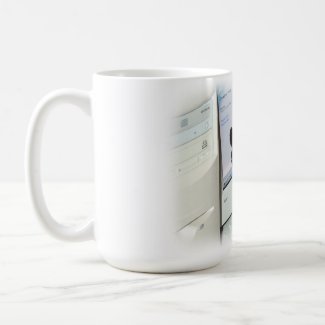 Cat and pc by TitiaG
Highly recommended to not let your cat on the keyboard! Certain combinations of keys, when pressed together by furry paws or clumsy hands, will make your life miserable as your computer does things all by itself…….Unplug those keyboards!
Outdoor cats
If you have an outdoor cat or an indoor/outdoor cat, the great outdoors makes for instant backdrops!
An overcast day is usually best for outdoor photographs so you don't have to battle shadows or sun in anyone's eyes. Otherwise, early morning or later in the afternoon is next best. Flash pictures of cats always end up looking like…….flash pictures, so try and take your photographs where there is enough ambient light to not use the flash. Flash also gives you the problem of "green eye" which is rather hard to touch up later…..better to avoid using it!
One difficulty you may run into is getting close enough to some kitties outside to get that great photograph-some will see you coming a mile away with your camera! This is when either waiting until close to dinner time or breaking out the treats can come in handy! You will probably end up with a lot of "distracted" shots, but even those can tell a story.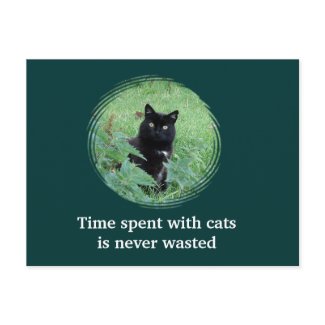 Time Spent With A Curious Black Cat Postcard by DigitalDreambuilder

Smokey the Cat Magnet by jasminesphotography

You are special to me Greeting Card by Funcards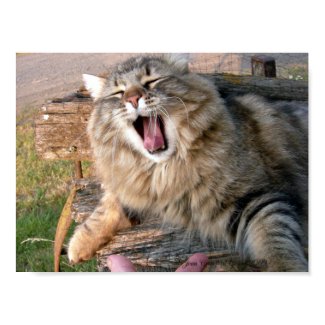 LOL Maine Coon by JeanC_PurpleDucky
Get up close and personal
(zoom lenses and good lighting help)
Zoom in! Or if your cat will let you, poke the camera right up next to him or her. Make sure there's enough lighting so the flash won't create any issues and click away! Usually right after a nap is a good time to catch the kitty up close, before they've really woken up enough to bother getting up and moving.
Or, you can take a wider angled picture and crop down to just the eyes…..or the nose……or the mouth. Play with the crop box-you may end up with 3 or 4 good variations on one picture!
Might want to check and make sure kitty doesn't have gunky eyes, for some reason the gunk always shows up HUGE in pictures.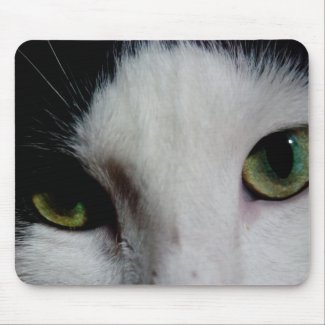 Cat Eyes in Color Mousepad by ValeriesGallery
This one was desaturated to make it black and white: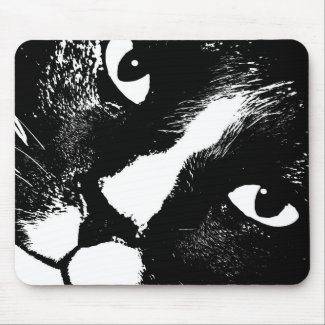 Black and white cat face close up by SusansZooCrew
Here's an example of a wider shot that could also be cropped in. The picture is great as is of one sleeping and one awake kitty, and then you could also crop it down to just the black cats' face!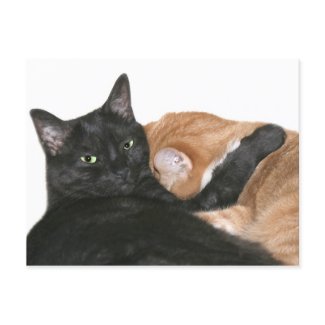 Everyone needs a hug by deemac1
This is what you can do when your kitty is more interested in the lizard outside than you…..sneak in from the side and get right up to him!